Installing front door locks requires the skills of a leading locksmith. We can help with this as the emergency locksmith Barkingside often depends on. Our work can help you maintain and improve the security of your home. This allows you to be able to feel safe in your house.
Regardless of whether you are newly moving in or are replacing old locks, you need to make the right choice. Think of it as a long-term investment.
A necessity
You might believe that you live in a peaceful neighbourhood but this doesn't mean that a burglary won't happen. You need locks in place to offer protection for you, your property, possessions, and loved ones. There are a huge number of locks on the market so it is vital you get the right ones.
It is important that you choose locks that match your requirements. If you want help making the right decision, you should turn to a locksmith who will make sure you choose quality locks.
When to install them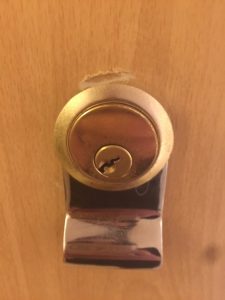 It is essential to get new front door locks after a break in. This is one of the most obvious responses and you need to do it quickly. Even if your lock was only picked and is still functional, you should replace it as otherwise it is risky.
It is also wise to install new locks when changing the entire door. While you could keep the old ones, this situation gives you the opportunity to update them.
There are certain situations where getting new locks is mandatory rather than a preference. You wouldn't want your front door to let anyone in, would you? Contacting a local locksmith can help you understand when you need lock replacement.
Call on an emergency locksmith in Barkingside
Even if you think it would be easy to install a lock, you should leave it to a specialist. A professional locksmith is someone you can trust with your lock needs. We use special tools to work on your doors without causing any damage in the process. You can maintain the security of your property when you reach out to Locksmith Expert.
We can help make sure you have the right locks in place and offer expert services. Feel free to reach out to the emergency locksmith Barkingside trusts if you ever need our help.