When you have trouble with the locks, you need an effective and fast solution. This is what we can give you. Locksmith Expert aims to be with every customer within 30 minutes of their call so you aren't waiting long. Once we get there, you will have the finest emergency locksmith Ilford has working on your property. We can open locks quickly and then provide the most effective solution, whether it is repair or replacement.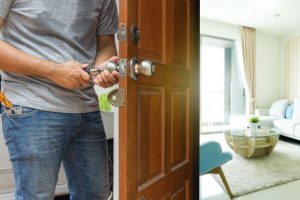 People can find themselves in situations where they are unable to get into their home. However, some may be too embarrassed to call for assistance. Many of us have been in this position in some manner. It is not unheard of for locksmiths to get a call out for some rather odd reasons. In this post, we will be discussing some of those cases where a person may hesitate to call a locksmith.
Has your partner changed the locks?
The first situation is when your significant other changes the locks. For residential locksmiths, this is a common situation. Couples living together can get into big fights. In some cases, this can lead to arguments over who rightfully has access to the house. A lot of the time, it comes down to who can change the locks first.
If the situation calls for it, you can contact a locksmith to aid you in getting back inside. You can do this as long as you can prove you live there. Please speak to us if you need the most skilful emergency locksmith Ilford has.
Neighbour concerns
Another situation is where you have concerns about a neighbour. Locksmiths can get calls to open the doors of homes where people have been unseen for weeks. Neighbours or the police may well suspect that something is wrong. If you do have concerns, don't be embarrassed about calling a locksmith.
Too many calls in one day
The last embarrassing situation we will talk about is people calling us too much. Some people are very forgetful, but everyone has a clumsy day at some stage. You should never worry about calling a locksmith, even if they were only out recently. Whenever you require help, locksmiths are ready to assist with no judgement.
An emergency locksmith in Ilford to help when you need it
At Locksmith Expert, we respond to calls 24 hours a day, seven days a week. We are there whenever you need us. We can tackle any property too, including houses, flats, and warehouses. Plus, we always have the necessary tools and work fast to get you back into the property and solve the issue.
So, if you need the most skilled emergency locksmith Ilford has, please let us know.