Being locked out of your property is not a situation you ever want to be in. To help anyone in this situation, we have a professional locksmith service that is available 24/7. We make sure to bring the right equipment and the finest emergency locksmith Barkingside has available. As a result, we will solve all of your problems and ensure your locks work properly.
Most of us are aware that break-ins can and do happen. However, you must ask whether you are familiar with the type of crime that happens in your neighbourhood and the frequency. You might be a homeowner or be moving to a new home. Whatever the case, you have to think about the security risks in your local area. That way, you can better protect yourself against break-ins.
Opportunity knocks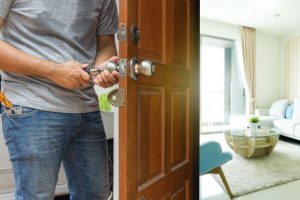 Burglaries are typically pre-meditated. However, if there is an opportunity, the criminal could act on it. For instance, you might have a window open on the ground floor that is easily accessible. You need to take steps to ensure you don't offer these opportunities, especially if crime is high in your neighbourhood.
Countless home insurers are going to advise you to take pre-emptive steps to safeguard the building. You can usually find details of these requirements in the small print of your insurance documents. It is important to follow them or you will risk voiding the agreement. Contact the greatest emergency locksmith Barkingside has if you need help with your locks or other security measures.
General tips
There is some general advice on this subject we would like to share as we believe it will help you. Start by storing your ladders and bins away from the building. Thieves can use these to access the 1st floor.
In addition, don't leave your valuables where someone can see them, like in front of a window. This is good advice whether you live on a quiet street or a very busy one. Avoid talking about holiday plans on forums too. Posting the details of where you are going to be shall leave your house vulnerable to a break-in.
Timers and lights
One good idea would be to leave a timer or a light on. This can be especially helpful if you are spending time away from home and when it's dark. Leaving the radio or television on is a decent alternative if you don't want to leave the lights on. You can purchase lights with timers too.
Where will you put your keys?
It is never a good idea to leave your keys close to a window or door. The last thing you want is someone to be able to easily reach in and take them. Whether you live in a mostly quiet residential area or a busy city centre, always keep your keys somewhere out of the way. Just make sure you remember where.
Rapid responses from an emergency locksmith in Barkingside
At Locksmith Expert, we aim to be with our clients in 30 minutes or less. We want to minimise the amount of time they are unable to get into their property. Being an official Yale Door Master and OPAL accredited, we can work on a large variety of buildings and locks. This means we can offer a rapid service in most situations.
So, if you would like to work with the most skilful emergency locksmith Barkingside has, you can call us anytime. Literally, rely on us at any point during the day or night.