We are the emergency locksmith Chigwell loves due to the level of care we give along with our services. Understanding that security is an important thing, we can help you with various lock-related requirements.
Whether your property is private or commercial, you will want to protect it. Unfortunately, many people do end up locking themselves out at some point in their life. Whether it is through a missing key or locking it in the building, your security will keep you out. This can leave you panicking about what to do.
What You Should Do
Our service is one you can depend on for quality as well as speed. Our non-destructive methods of gaining access to your property mean that you don't have to try and do it yourself. As a result, you can be confident you will gain entry without having to worry about a big repair bill for the damage.
Emergencies can happen at any time, which is why ours is a service that operates 24/7. We typically arrive at your property within 30 minutes, and always with specialist tools in hand. This allows you to continue on without having to wait around.
How To Avoid It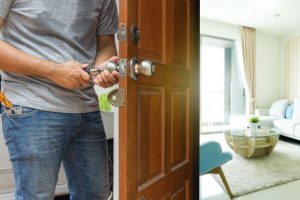 If you often lock yourself out or want to be proactive for the future, you may want to put measures in place so that you don't have to keep calling a locksmith. We are always happy to help people, but this way you can save yourself some time and money.
A high quality lock box is ideal for forgetful people. It is a good idea to stash a key somewhere, but when people use a place such as under a mat or plant pot, it is dangerous. Thieves are aware of the fact that many people do this. So, don't risk the security of your home and get a purpose-built lock box.
You may also want to choose someone you trust to hold a spare key. After all, if they live nearby you may as well make the most out of it. They may not always be home, but it is still very helpful to have it as a potential option.
Call on a leading emergency locksmith in Chigwell
Locksmith Expert is the reliable professional providing aid 24/7. If you find yourself locked out, contact the emergency locksmith Chigwell relies on at 07850751683. We look forward to hearing from you.