People have trouble with their locks all the time. That is why we chose to offer a service where we can get to them quickly if there is an issue. The last thing they want is to be stuck outside their property for hours on end. Luckily for them, we have the best emergency locksmith Chigwell has available. As a result, we are ready to solve the problem.
A fact that may surprise you is that very few people actually have a spare key. When they lose their keys or get locked out, it is safe to say they get caught out. For both business and home owners, having a spare is critical.
No accidental lockouts
One reason why this is true is because spare keys aid you in preventing accidental lockouts. There is always the risk of a lockout happening to you. At the very best it will be frustrating. At worst it can cause big problems like making you late for work or miss appointments. Therefore, you are better off preparing for it. The spare key will save you money and time. It helps with emergencies too.
Broken keys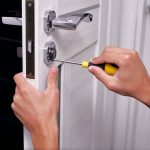 Something that tends to lead to a lockout is a broken key. When you use keys for a long time they can break. This could be because of an accumulation of wear, including bending the key when you use it. The locks may also not function properly. If so, you could be experiencing a key break soon.
In some instances, it won't be hard to tell that your key is at risk of breaking. Some keys shall have minor cracks that appear along the shaft. Either way, you should have a spare in case your key breaks.
Easy replacements
Spare keys make replacement a quick and easy affair too. There are a number of things that will warrant a key replacement. The keys might be broken, stolen, or lost. With a spare, it will take far less time to create new copies. Without one, a locksmith would need to disassemble your lock.
Contact us to hire an emergency locksmith in Chigwell
At Locksmith Expert, we have a vast knowledge of the locks on domestic and commercial buildings. As a result, we have the skills to work on all types of locks. In addition, we are always careful when repairing our client's property.
If you would like help from the most skilful emergency locksmith Chigwell has, you can speak to us anytime. Our service is always available because we know issues can happen at any time of day or night.