When you have trouble with your locks, you want the help to be swift. More importantly, you need it to be available at all times. Understanding this, we have a 24/7 locksmithing service. In addition, we made it a point to employ the greatest emergency locksmith Chigwell could offer.
Door lock security systems take priority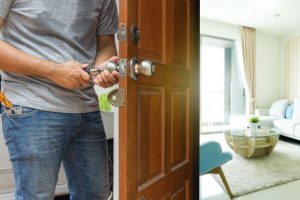 There are not too many things that are more critical than your door lock security system. Countless break-ins occur due to lacklustre security. The burglars could use sophisticated techniques or you could simply have old locks. Whatever the case, one detail is certain; you need a higher level of security to protect the home.
Many homeowners don't even realise their property is vulnerable. The reason why is that it is not a requirement for locks to become entirely dysfunctional for burglars to break them. A front lock exposed to the cold or a slow responsive one will be more at risk.
As experts, our recommendation is to purchase high security locks for front doors. What this involves is you contacting one of our experts and doing some research. You might require some additional aid with enhancing the home's security. The following tips are ones you can use to help yourself feel safer. If you need help from the leading emergency locksmith Chigwell has, speak to us.
Make sure the lock is right for you
Firstly, don't purchase front door locks until you have had the opportunity to talk with a locksmith. You may be tempted to buy a complex deadbolt or smart lock. Several of them are wonderful when you are attempting to protect your uPVC windows and doors, or front doors. However, you could make the error of not choosing the most appropriate kind of lock. Here, you will end up spending too much without actually augmenting the security.
An extra lock
Consider installing an extra lock as well. This might sound odd, yet a second one can be straightforward but practical solution for increasing security. Again you need to choose the right type though. Something else that is vital is to think about the door. Check to see if its format permits you to install another lock. Normally, an emergency locksmith would install a secondary model after a break-in happens. However, we can fit one at any time for you.
Double cylinder deadbolt locks
For maximum security, we recommend you go with double cylinder deadbolt locks too. Any locksmith in our industry with a lot of experience will advise you on this course of action.
One possibility is the vertical double cylinder lock. The primary benefit of this style is that it has rings around the bold. This makes it pry-proof. With traditional locks, burglars can pry your door apart without putting much effort in.
Speak to an emergency locksmith in Chigwell
At Locksmith Expert, we have an unrivalled knowledge of locks. This enables us to provide the most effective services for each client. As long as we are around, you won't have to worry about any lock problems.
If you wish to work with the finest emergency locksmith Chigwell has, please get in touch. We can talk about your issue and suggest the right service. If you need a fast solution for a broken lock or lost key, we work 24/7 and will be with you asap.