One of the most important parts of keeping your home safe and secure is getting into the right habits. What you need to do is avoid things that could make it easier for people to break in. Most crucially, you must keep keys out of sight and away from prying hands. As one of the best options for an emergency locksmith Ilford has, we want to offer some tips here.
A risky habit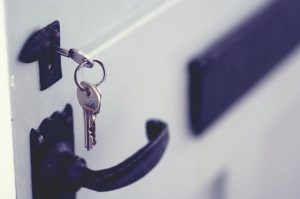 Many people in the UK have an awful habit of leaving their keys in the back of the door after they lock up. It is convenient and reduces the risk of misplacing them in the property. Some people even do it so they can ensure they can exit easily if there is a fire. However, you could be asking for big trouble.
The problem with leaving your keys in the back of the door is thieves could try to reach in and take them. A lot of burglars will test a property to see if they can get in easily. They will likely start by testing handles to see if the door has been left unlocked. Even if they are locked, they will listen for a jangle to tell them that the keys are in the lock in the back of the door. They may even look through windows to see if they can see any sign of them.
If the keys are in the back of the door, a burglar may try "fishing" for them. Here they will attempt to use wire hooks to reach through the letterbox try to snare the keys and pull them free. They can then reel them in and silently unlock the door to gain entry.
Insurance
Most people will have home insurance to protect their property. However, to ensure it is valid you need to make sure you do all you can to prevent break ins. As part of this you must use suitable locks that meet the British Standard.
One thing you definitely need to do here is make sure burglars can't get access to your keys. If they do, they can simply walk in the property and take what they want. As there won't be a sign of a break in, you may not be able to claim on the insurance. The insurer may also ask where the keys were and may not pay out if you left them where they were easy to steal.
What should you do?
The ideal thing to do is get in the habit of putting your keys somewhere safe and memorable. Just make sure you don't choose a bowl or hook near a door or window that will still be relatively easy for a burglar to reach. Plus, with fire safety in mind, it may be best to ensure you have a spare easy to hand in case you need to make an emergency escape.
Working with a reliable emergency locksmith in Ilford
Locksmith Expert is a team you can rely on 24/7. We offer a full range of services, including lock opening, repairs, and replacement or upgrades. Our goal is to provide the best service for you every time, taking on board your budget as well as what will be the most cost effective for the long term.
So, if you have a problem with your home security, choose the best emergency locksmith Ilford can offer. We are a local provider and work hard to support everyone in the community. You can contact us any time you need help.