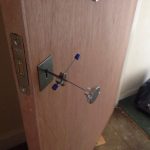 The best locksmiths will always rely on non-destructive techniques to open locks. Breaking the door should be the absolute last option because the repair costs can be huge. Before this, they should try using a variety of tools to get the lock open. As one of the top providers of an emergency locksmith Romford has, we can tackle many issues for our clients without destroying the door.
What tools do we use?
One of the great things about working with Locksmith Expert is we have access to a huge amount of high quality tools. As a result, we can try many things to give people access to their home. Some of the tools you may see us use include:
Bumping kits
A common technique that locksmiths can use is lock bumping. This involves using universal bump keys, a bump hammer, and dampers to open a lock. What happens is the keys can align the pins in a cylinder lock so that it can open.
Rakes
Standard picks are one of the most common tools you will find in a locksmith's arsenal. However, you need a pick for each pin. It can therefore be quite time consuming to open a lock like this. Rakes are easier to use and you only need one. You simply use a tension wrench and then insert the rake into the lock. Then it is a matter of vibrating and wiggling it until you open all the pins.
MICA
Most people have probably seen the trick in films where someone uses a credit card to open a door. Surprisingly, the basic technique can actually work at times. However, cards are unlikely to be strong enough. MICA on the other hand can work very well. The plastic is durable but also flexible so it can help to open latches.
Electric pick guns
A lot of locksmiths rely on these picking guns to open locks. They are really simple to use and can have a surprisingly high success rate. If manual picking is not working or speed is vital, one of these tools can be the perfect option.
An emergency locksmith in Romford you can trust
If you have a problem with a lock that won't open, whether it is your home or a business premises, you can rely on Locksmith Expert. We offer fast responses 24 hours a day to help clients. We carry lots of high quality tools and will try everything we can to open the door without damaging it.
So, contact us to hire the best emergency locksmith Romford has to offer. We are accredited experts and have a huge amount of experience to call on. Therefore, you can expect a great service for your money.