If you ever lock yourself out of your house or any other property, you will need expert help. Ours is a company that has been specialising in locksmithing for many years. As a result, we are the best place to find a top quality emergency locksmith Chigwell residents can depend on. In addition to being professional, our people are always friendly and polite.
Having cheap door locks is something that can make your home more vulnerable to break-ins. This is a well known fact. However, there is something that many people don't realise; poor quality locks can get you into trouble with insurers as well. They may not pay out if you have an issue and your locks are not BS standard.
Many people hunt down the best bargains in order to save money. But, when we are talking about the security of our families and properties, you should never cut corners. Don't go for the least expensive choice with your locks.
More break-ins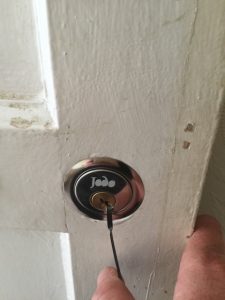 Over the past few years, there has been a significant increase in the amount of break-ins in the UK. Many of these have involved picked locks. This information comes from the Office for National Statistics (ONS).
Installing cheaper door locks may save you a few pounds up-front. But, in the long run, such action can be extremely damaging. The cheaper models tend to be less secure and easier to bypass by picking or breaking them. The average amount of money lost to a burglary is £3,234. This is much more than you would ever need to pay for really good quality locks.
Another thing to think about is that insurers don't tend to pay out for those claims where there isn't any indication of forced entry. So, if someone has been able to pick the locks to gain entry and steal from you, there may be no way to get your money back. An insurer may also refuse to pay out if your locks did not meet the right standards.
With all this in mind, it is critical for you to protect your property using high calibre locks. Doing so is going to make your house more secure. At the same time, you will be able to claim through your insurance in the event you suffer a break-in. If you need help from the foremost emergency locksmith Chigwell has, contact our team.
The right time to change locks
The only question here is when should you change your locks? Your home locking system is something you should strive to update at the earliest possible opportunity. Our recommendation would be to change each lock when you first move into a property. Former occupants won't be able to get in this way.
In addition, you should look at an upgrade if you have recently been broken into. Burglars may come back if they have already been successful once.
What type of lock to choose?
Deciding what types of locks you should use can be tricky. However, Anti Snap locks are always a great choice. They have a strong cylinder that is not susceptible to attacks. Ideally you should also choose a lock that has a lot of pins because they are harder to pick.
A helpful emergency locksmith in Chigwell
At Locksmith Expert, we help each client to the best of our abilities. To ensure we can help them to get back in, we always carry a large assortment of tools. Not to mention, our knowledge of locks in general is excellent. We can open most types and can then provide repairs or replacements as necessary.
If you would like to work with the greatest emergency locksmith Chigwell has, please get in touch. We can provide access to all kinds of properties and always ensure we deliver a reliable service.