Locks can give people trouble at the worst of times. Fortunately, Locksmith Expert is here to solve all your issues. We can be with you when you need us to be thanks to our 24/7 service. In addition to unlocking the locks, we can make any replacements. Best of all, the most skilful emergency locksmith Barkingside has will handle everything.
Replacement isn't always the answer
The best solution for your broken locks is not always going to be replacement. If the damage is too bad, then replacing them is the right option. However, you should not dive straight into it. Instead, you should be looking at potential ways to overcome the problems. There may be alternatives that will be quicker, easier, and cheaper.
Check the bolts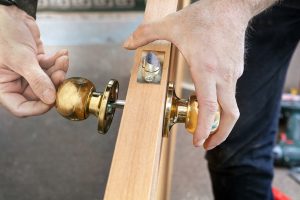 One of the best ways to go about this is by checking the bolts. There can be a number of problems that pop up around them that lead to other issues. It could be a broken deadlock or a busted latch bolt. A deadbolt can only endure so much force. It is even possible for them to bend if someone tries to force entry. The same situation can pop up with latch bolts. You find these in handles and doorknobs. Mechanisms like these are spring loaded. Furthermore, due to how they are made, they can jam due to misuse.
Latch bolts aren't the locks that supply security to a structure. However, if they break it can cause issues with closing the door. As a result, you should check that they retract and extend properly. Clear any debris on the cross bore holding your bolt or inside the strike plate.
When the bolt suffers too much damage, you can try replacing the broken components. This can save you on cost of changing locks. Contact us if you need help from the best emergency locksmith Barkingside has.
You might be hoping to bend bolts and put them back into the correct shape. What you should remember is that adjustments of this kind can undermine the bolt. In these situations, you would be better going for a replacement. After all, you don't want to diminish the quality of your locks using ineffective methods.
You may want to discover if the problem is with the bolt rather than the door jamb's alignment. In this case, you should see whether the bolt turns correctly when the door opens.
Talk to an emergency locksmith in Barkingside
At Locksmith Expert, we know offer a round the clock service to ensure we can reach our clients quickly. Furthermore, we have a wide range of tools to deal with all kinds of situations.
So, if you require the greatest emergency locksmith Barkingside can offer, please give us a call. We will ensure you get the best possible service.