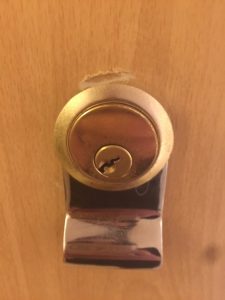 Locksmith Expert has been in business for many years now. Our job has always been to provide clients with the best emergency locksmith Romford can give. However, we take things one step further by making ours a 24/7 service. Before we come to you, we make sure we have all the necessary tools as well.
A sticky and stubborn door lock can easily become an inconvenience. In addition to being stuck outside where it is cold, there is the danger of you breaking the key off inside the lock. This will happen if you are not careful and shall only worsen the situation. It is possible to harm the door's surround too. The result will be your lock becoming unsafe and loose. If you need help unsticking your own lock, the following advice can assist you.
No go for spray lubricants
Our first piece of advice is to steer clear of spray lubricants. These products are among the most frequently recommended answers for unsticking locks. They do get the job done, but it is temporary. Moreover, they often do more harm than good. They are also messy to use since they leave greasy residue on door knobs.
Furthermore, they are capable of trapping dust and dirt within the lock. Such a cluster of gunk shall gum the lock up eventually. In the end, you will get the opposite effect of what you were hoping for. Talk to our team if you need the top emergency locksmith Romford has. We can quickly deal with sticky locks.
Graphite powder
Instead of spray you may want to try graphite powder. The majority of hardware shops have this valuable lubricant. It does an excellent job of lubricating the lock without you having to deal with liquids or sprays. Normally, it comes in a tube or squeeze bottle and a needle-nosed applicator. This is to make using it easier.
Simply squeeze a minor quantity of graphite powder into your keyhole. From there, you can use your key to steadily work the lubricant into the lock. Another method is coating the key with your powder and putting it into the lock.
How about a keyless lock?
There is a third option as well, which is to forego the above tips and purchase a keyless lock instead. This is easily the best choice. After all, you will never have to worry about the dangers a sticky lock poses again. The functional efficiency and reliability of these locks is something you can't beat here. All you need to do is type your personal access code in on the keypad. Afterwards, you can open the door with no fuss. There is also no risk of losing a key ever again.
Come to us to find the best emergency locksmith in Romford
At Locksmith Expert, we respond to every call within minutes and strive to be with clients in less than 30. We have a massive amount of knowledge on locks and can work on those found in flats, warehouses, homes, shops, and more.
When you need the best emergency locksmith Romford has, speak to us. We will ensure you get the right service.