When you find yourself with broken locks, you need to work with reliable locksmiths. In addition, they have to be with you quickly, and be available at all times. This is what we strive to provide here. We are experienced, quick to act, and we work 24/7. Moreover, we can provide you with the best emergency locksmith Romford has available.
Don't act too late
Door lock problems appear every now and then. It is something we all must put up with. But, the manner in which you treat them will determine how badly they influence your security. Sadly, many people don't contact locksmiths until it is too late.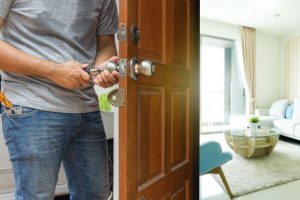 There are specific door lock complications that are too important to ignore. In our experience, the problems grow into something worse if you fail to address them properly. Your security could be left vulnerable and leave the property open to attack. If you want to avoid any unnecessary costs, you must look for certain problems. The one we want to concentrate on is turning lock cylinder.
If you put your key into a lock cylinder and turn it, locking and unlocking the door should be easy. However, you might turn the key and find that the whole lock cylinder turns. This is telling you that there is an issue at hand you must address. It is a simple problem to diagnose, but not so straightforward to fix. Speak to us if you need the finest emergency locksmith Romford can provide.
The trouble with turning lock cylinders is that they restrict when and how you can unlock/lock your door. Essentially, this means you could end up stranded outside your building, unable to access it. Alternatively, you might not be able to lock the doors at all. Anyone will be able to get in.
Loose or damaged screws
When your whole lock cylinder turns, there is probably a loose or broken screw. In order to overcome this snag, you must access and tighten it. This sounds easy on paper. Yet, details shall vary as there are many kinds of door locks. To give an example, some of the better performing products are mixtures of deadbolts and mortice locks.
Fixing the problem
To fix this issue, you must access the screws holding the cylinder in position. For some locks, this means you will only have to remove the faceplate. For others, you need to remove part of the lock from your door, disassemble it and inspect the positioning of your screws.
Not every lock is going to have screws in the same area. To give an example, rim locks are going to have a set screw that you can access easily by removing the external case. As for mortice locks, they will have several set screws that you will only access once you remove the faceplate.
Once you find the set screws, tighten them and put the faceplate back where it was. If you have rusted or damaged screws, replace them prior to closing the faceplate. Finally, give the lock a test and make sure the cylinder remains firmly in position.
Call us for the best emergency locksmith in Romford
At Locksmith Expert, we are always available in the event you become locked outside your property or can't lock up. After you call us, we will jump right into action. We shall be with you in under 30 minutes. Not to mention, we will offer you the greatest prices for our work.
So, if you require the top emergency locksmith Romford has, contact us today. We are available whenever you need us.