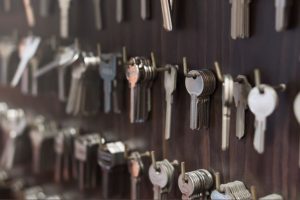 People find themselves locked out of their properties and vehicles all the time. Sometimes, this happens at night. Thankfully, we offer a 24/7 service to give customers help when they require it. We send out the most skilful emergency locksmith Chigwell has as well to ensure the job is professional.
Returning home to find that someone has broken into your property is not a nice feeling. Therefore, it is a great idea to understand what the possible signs of intrusion are. To ensure that you know what to look for, we are going to share some of the most common signs with you.
Scratches
To start with, you should be on the lookout for scratches. Wear and tear might be normal for locks that you use frequently. However, you should watch out for deep scrapes or cuts around the lock. This is a clear sign that someone has attempted to break the lock. The moment you notice that your deadbolt lock is slightly out of place or spot metal scratches, you should call us. We will send the best emergency locksmith Chigwell has to offer to you so they can investigate.
How does the lock function?
Have a look at the lock's functions too. In some instances, you won't notice any visible damage. However, you may find that the lock does not work properly. This could be the result of tampering. In addition, your key might be faulty within the lock. The reason might be that someone could have used an improvised key inside the lock. From there, someone could have employed a blunt object to strike it so that it breaks.
Damages
You should check to see whether your lock has any damage as well. Brute force is one of the most common strategies used to break in quickly. If a burglar attempts this there are going to be some highly visible signs. This will be the case regardless of the perpetrator's success.
What usually happens is that burglars drill the lock and bring out a crowbar to break the lock's body. As a result you might encounter things like scratches, a dented lock, splinters, and debris.
Have you seen anyone suspicious lately?
Some burglars will spend a lot of time monitoring a property to check how the people who live there behave. That way they can see when they typically leave and how often the property is empty. Bold criminals may even sneak up to the property to check if doors or windows are open. What you should do is keep a look out for anyone suspicious on your street. You can also ask neighbours if they have seen anyone near your home.
Call us to hire the best emergency locksmith in Chigwell
At Locksmith Expert, we set very high standards for our locksmiths. They are careful and quick workers who want clients to be back in their properties ASAP. We can also replace locks if there have been attempted burglaries or if you have any worries about them.
If you would like the assistance of the greatest emergency locksmith Chigwell has, please call us. As we said, we are available 24/7 so get in touch any time you need us.